NORTHSTATE POWERSPORTS CASE STUDY
Chico Honda Motorsports in Chico, California changed hands in 2011 and after a period of reinvigoration and expansion, the new owner decided it was time to make the next move.

The business owner is talented and a great manager of people and projects, so everything we have worked on below to date has been a real pleasure.
Project #1 was about the companies best investment opportunity, this legacy Chico company needed a complete brand makeover for modern times.
ID International was brought on-board for all things creative, and for the first challenge, to defeat a serious issue of local "brand fragmentation" with the Honda auto dealerships. To avoid this confusion we re-named the company Northstate Powersports, keeping geography in the title while evolving the company name to the new-school industry name Motorsports. After a search-and destroy process online, our boots on the ground process cleaned up after the old name and solidified the new name online.
THE NEW LOGO: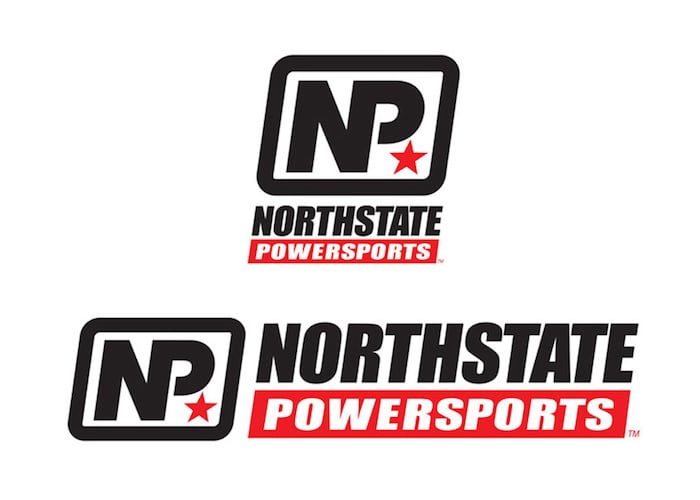 Project #2 was to design a new logo and brand. But not just any logo, an exciting, memorable symbol that looks like a race logo that everyone would want to wear.
The new logo features racing red and black colors, it leans into the wind for speed, and features the NorCal star for local California pride and appeal.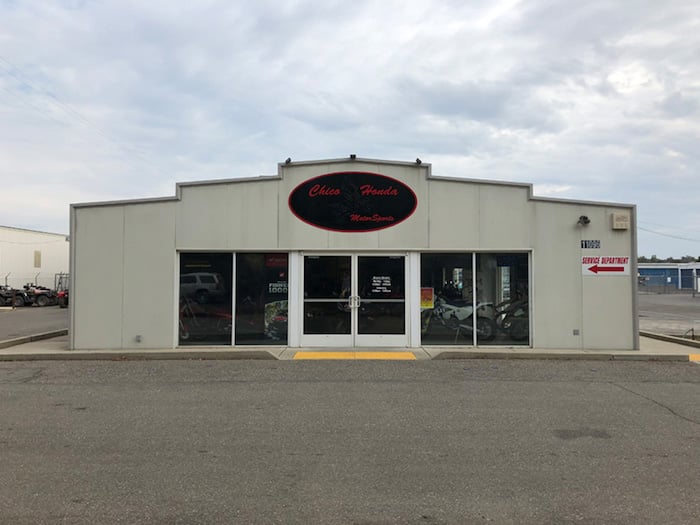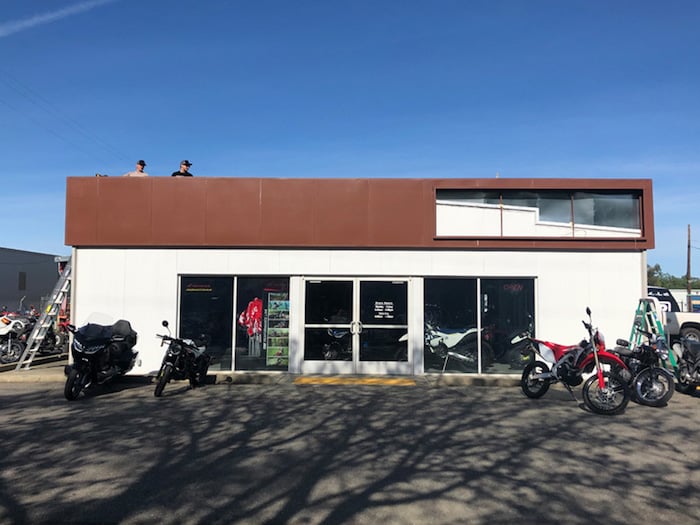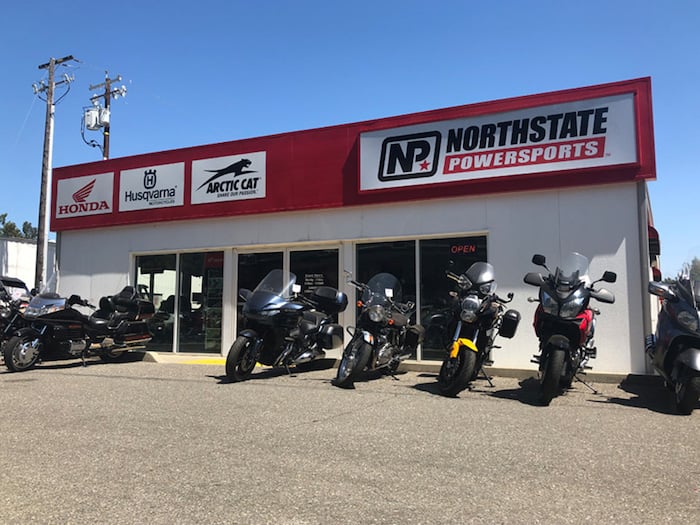 Project #3 was to re-design the building facade to position the visual part of the brand with the "leaders bracket" of their industry. We wanted it to look corporate, reliable, and have the potential to feel like the only motorcycle dealership and one-stop-shop that anyone would need. The owner himself built the new facade out of steel and now it not only features the Northstate Powersports brand, but also the three main vehicle brands they offer.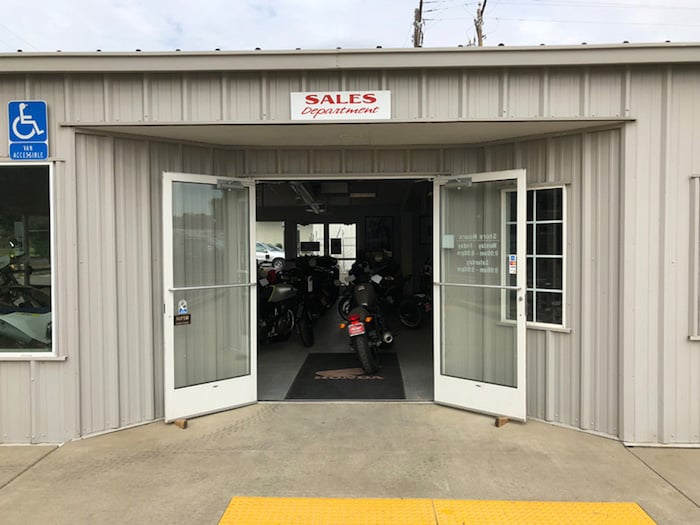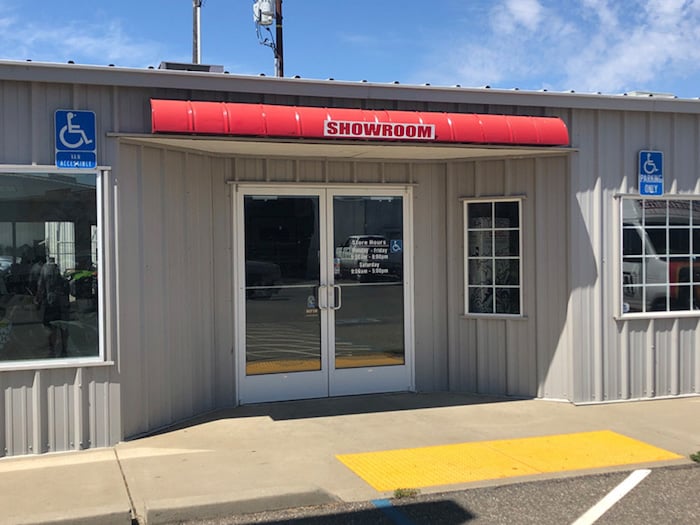 Project #4 was to apply the brand to new building entry points to differentiate the Showroom floor entrance from the Parts and Store entrance etc. Featuring the brand red, we worked again with steel to create these cut-barrel metal awnings for each doorway.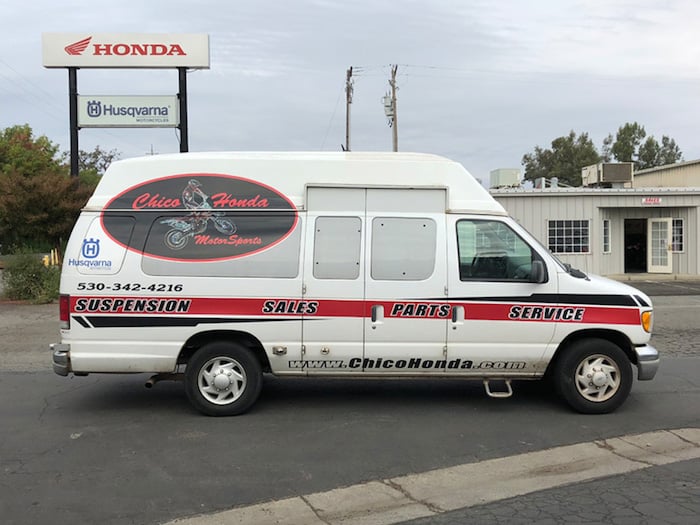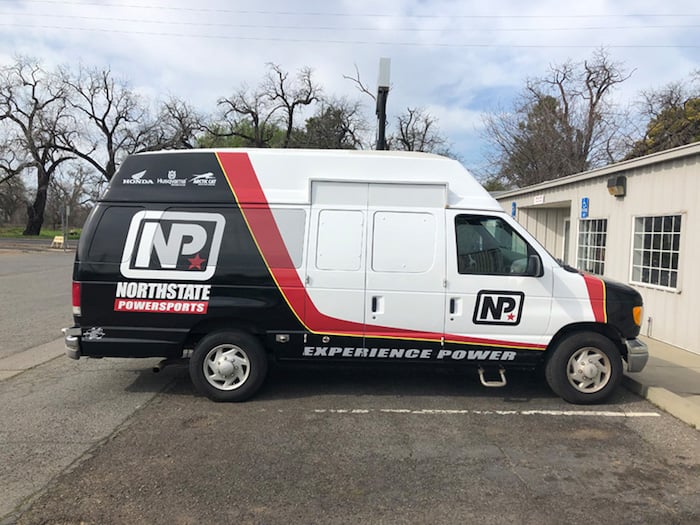 Project #5 was to re-design an old ambulance and a similar sized van to look like full-on race support vehicles so that they could attend races and events in style. With an "in-bound marketing" slogan "Experience Power" and a stripe nod to the A-Team, these NP vehicles look like they're in motion while standing still, and are always highly visible and memorable wherever they are.
Ongoing today, we are systematically designing everything else that the owner wants for matching design, including branded race and street apparel, hats and shirts for the Northstate Powersports store (there seems to be never-ending variety of apparel uses with this versatile logo), a-frame signs, billboards, event flyers, home and garden show branding, sales collateral, and more.
SOCIAL MEDIA:
Now ID International manages Social Media for Northstate Powersports, making sure that their logo, products and brand culture span from Google to Facebook to Instagram on almost a daily basis. To review our posts and social marketing strategy for Northstate Powersports, just "like" them in Facebook and Instagram, and let us know what you think.
If you are in the California North State, and want a motorsports vehicle, be sure to stop in at Northstate Powersports in Chico!